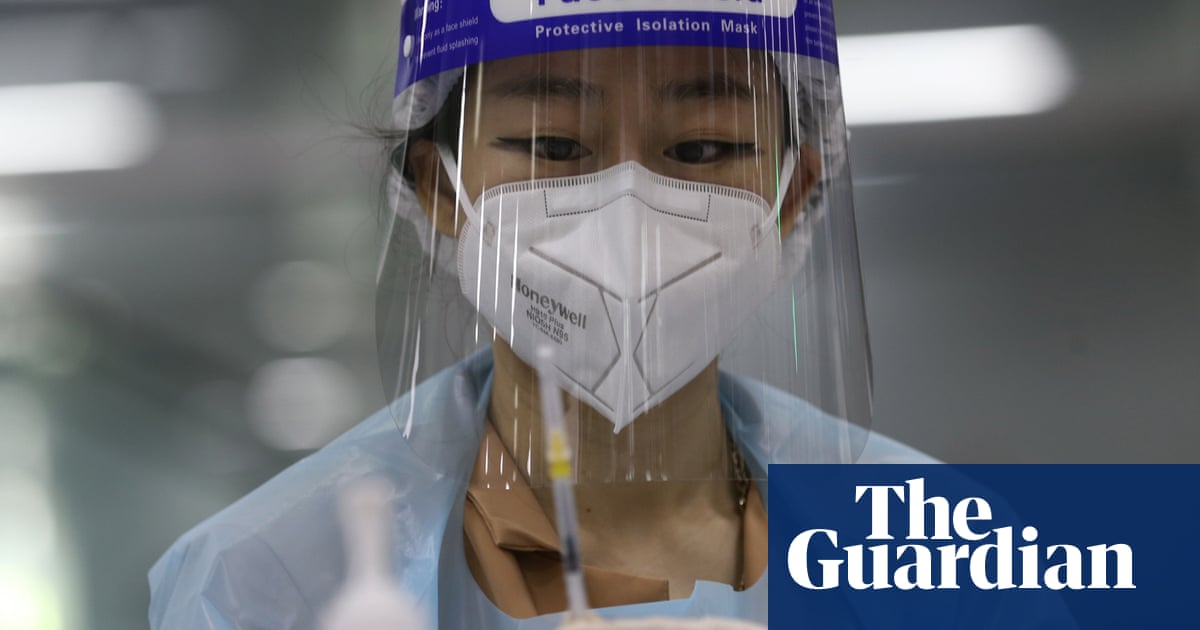 Epidemiologists warn of more breakthrough Covid infections as the number of fully vaccinated people catching the Delta variant rises. Queensland reported a Covid case in a fully vaccinated person on Thursday, a worker at the Brisbane international airport. In New South Wales, a nurse at Westmead Hospital tested positive on Tuesday despite being fully vaccinated and wearing personal protective equipment while working in a Covid-19 ward. A 26-year-old nurse in Suva, Fiji who tested positive for Covid after receiving two doses of AstraZeneca, told Guardian Australia he was thankful to be fully vaccinated. In a fully vaccinated population, all deaths would be in vaccinated people, while the overall numbers of deaths remained low.
Related:
ASSOCIATED PRESS - The Latest: SKorea sees 11th straight day over 1,000 cases
Nevada health officials reported 938 new cases on Thursday — the biggest one-day coronavirus case jump since February. The number of new cases reported Friday in Nevada was 866. ___MOSCOW — Daily coronavirus deaths in Russia have hit another record, with the authorities reporting 799 deaths. ___TORONTO — Prime Minister Justin Trudeau said on Thursday Canada could start allowing fully vaccinated Americans into Canada as of mid-August for non-essential travel and should be in a position to welcome fully vaccinated travelers from all countries by early September. "Canada would be in a position to welcome fully vaccinated travelers from all countries by early September," the readout said.
AOL - Rich Eisen experiencing symptoms in breakthrough COVID-19 case: 'It's possible, folks'
NFL Network host Rich Eisen is urging people to remain vigilant about COVID-19 after testing positive for the coronavirus even though he's fully vaccinated. Eisen, 52, shared on his social media accounts that he is experiencing symptoms and is currently in the fourth day of quarantine. So, be careful if you're vaccinated and, if you're not vaccinated, don't wait another second. Eisen told The Athletic in April ahead of the 2021 NFL draft that he had been fully vaccinated since mid-February. At least 48 percent of all adults in the United States are fully vaccinated, via the Times.
YAHOO - UK health minister Javid tests positive for COVID-19
By Alistair SmoutLONDON (Reuters) -British health minister Sajid Javid on Saturday said he had tested positive for COVID-19, but added that his symptoms were mild and he was thankful to have had had two doses of vaccine against the disease. "This morning I tested positive for COVID," Javid said in a tweet, adding he had taken a rapid lateral flow test, and was awaiting confirmation from a PCR test, which needs processing in a laboratory. Javid tweeted on March 17 that he had received a first shot of Oxford/AstraZeneca's COVID-19 vaccine, posting a picture of him getting a second dose on May 16. Vaccines are not 100% effective at preventing infection, but fully-vaccinated people are less likely to get seriously ill with COVID-19 even if they can test positive. Britain has the seventh highest COVID-19 death toll in the world, and has fully vaccinated two-thirds of adults, although it is not vaccinating children.