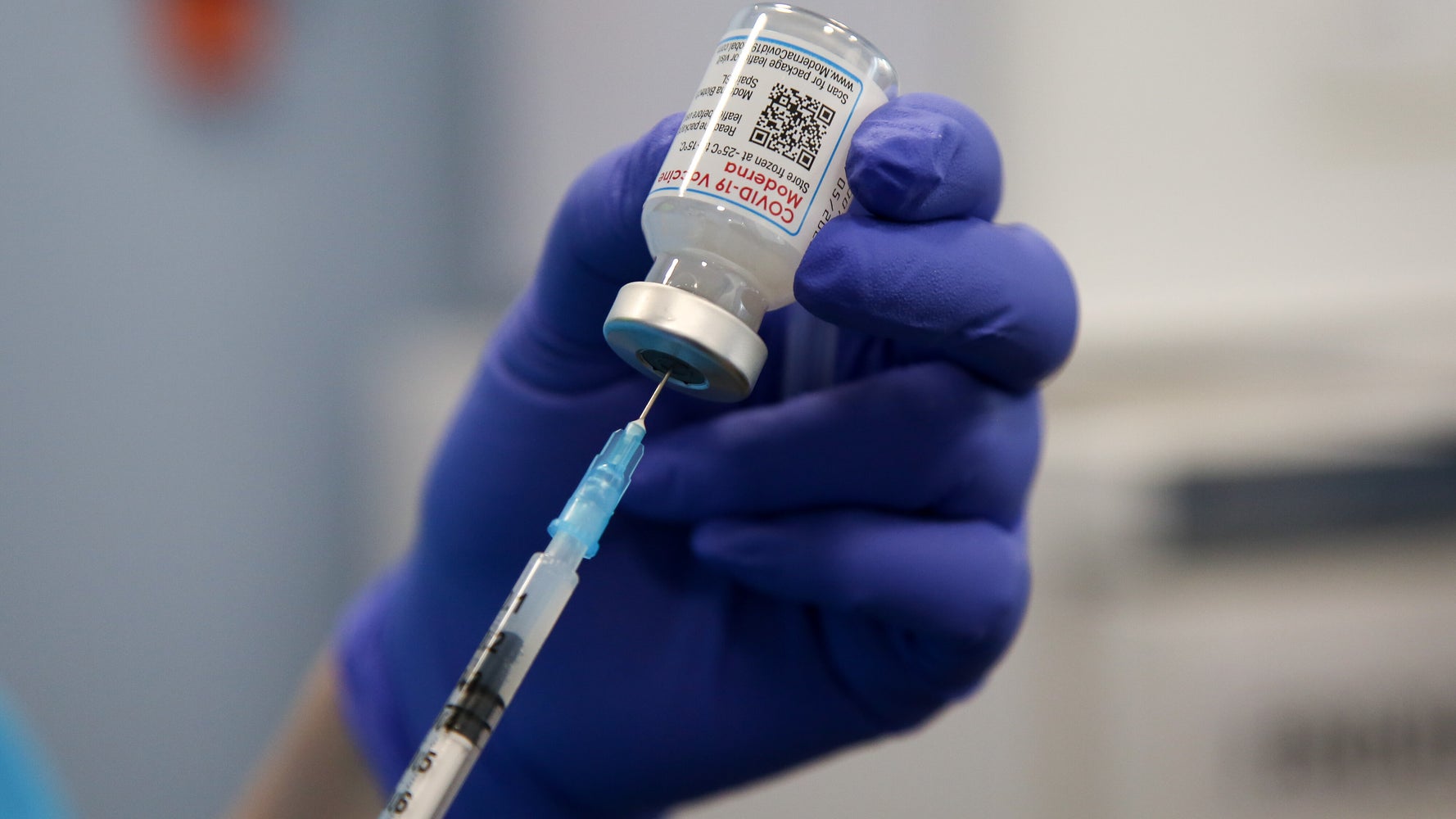 Moderna's experimental COVID-19 vaccine that combines its original shot with protection against the omicron variant appears to work, the company announced Wednesday. COVID-19 vaccine makers are studying updated boosters that might be offered in the fall to better protect people against future coronavirus surges. They're still providing strong protection against severe disease, hospitalization and death even after the appearance of the super-contagious omicron variant ― especially if people have had a booster dose. A health worker draws the Moderna COVID-19 vaccine at a vaccination clinic. Moderna has been testing an experimental vaccine that combines Moderna's original shot with protection against the omicron variant.
Related:
SKY - COVID-19: JCVI recommends autumn booster jabs for some groups
Analysis: Booster targeting makes sense, but leaves the economy exposedIt's a marked contrast to the booster rollout of last autumn, when it was offered in stages to all adults. Well, for a start, it makes clinical sense to target those most at risk. Even now, fewer than half of all people under 40 have had the booster rolled out last autumn. So while giving the booster to the vulnerable makes sense to prevent hospitals being overwhelmed, it still leaves the economy exposed. And that could be repeated if an even more infectious version – or a whole new variant - takes hold in the UK.
THE VERGE - New partnership links positive COVID-19 cases to antivirals — for a price
The at-home molecular COVID-19 testing company Detect is partnering with healthcare provider Carbon Health to give customers who test positive easy access to antiviral treatments, the companies announced today. The "Test to Treat at Home" program runs directly through the Detect app, which connects people who test positive for COVID-19 with Carbon Health. But, unlike the federal program, which is free, the Detect and Carbon Health partnership comes at a cost — which could keep it from being widely accessible. Carbon Health visits are covered by many insurance companies, but, for the uninsured, virtual visits can run as high as $69 and in-person visits as high as $195. COVID-19 cases are climbing in the US as contagious and immune-evading versions of the omicron variant move through the country.
HEALTH - Does the Smallpox Vaccine Protect Against Monkeypox?
How much protection does a previous smallpox vaccination give to older adults at risk of monkeypox? Childhood Smallpox Vaccination and Monkeypox ProtectionAccording to Newman, people who received the smallpox vaccine prior to its discontinuation in 1972 likely still have some protection against the related monkeypox virus and other orthopoxviruses—it's just not entirely clear how much. A 2007 study published in the journal Clinical and Vaccine Immunology found that prior childhood smallpox vaccination doesn't provide complete protection against monkeypox—but it does provide partial protection. Jynneos is the newer vaccine that has been licensed in the U.S. to prevent both monkeypox and smallpox. Vaccine Effectiveness and CDC RecommendationsAccording to the CDC, the smallpox vaccine is at least 85% effective in preventing monkeypox, according to past data from Africa.
THE WASHINGTON POST - Moderna seeking FDA authorization of omicron-specific booster shot
But the omicron variant has mutated so quickly that several new subvariants have emerged that are even better at evading the immune system's defenses. Even if the updated booster provides less protection against later omicron subvariants than against BA.1, it will probably still be more effective against them than the company's existing booster, Moderna President Stephen Hoge said. AdvertisementSoon after the omicron variant was identified in South Africa late last year, Moderna said it was developing shots specifically designed to fight the variant. Pfizer and BioNTech announced the same plan, although they have not yet released data on their updated vaccine. Globally, new coronavirus cases are still declining after the omicron variant triggered tens of millions of new cases worldwide, driving up infections during the winter.